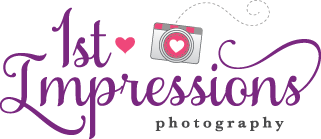 ­­
Hello! My name is Jemma and I'm the main photographer here at 1st Impressions Photography Ltd. 
Back in the early 1990's I recall seeing a promotion on cans of Campbell's Meatballs (remember those?) where you sent off a number of labels and received a 35mm film camera in return. With a bit of pester power, this became a reality and I was soon hooked on the art of photography; carefully composing 24 shots, sending the film off to Truprint and waiting patiently for it to be developed and returned. The camera was permanently glued around my neck, as you can see in the photo on the right! 
The advent of digital photography was a blessing - both technologically and financially (although the cost savings in film were soon lost in albums, and needing to buy floor to ceiling bookshelves to house my growing collection of images!) I bought my first DSLR camera over ten years ago now, whilst at university. I vividly remember the first time I took it off 'auto' mode and wondered how I would ever figure out the manual settings. Taking photos of everyone and everything seemed to be the answer…! 
When I was a Bride in 2011, choosing a professional photographer was my number one priority. They were booked before we secured a venue as trusting someone to create my cherished memories was so important. If I could have, I would have photographed my own wedding - and to some extent I did! I conceded that the DSLR would be overkill, but I insisted that my Chief Bridesmaid looked after my point and shoot camera, so that I would have it on hand for any critical moment when the pros were elsewhere. 
Fast forward to today and that passion for photography is stronger than ever. You'll still find me in the same pose with a camera attached to my person, usually holstered to my hip so I can clamber hands-free through difficult landscapes to get that perfect shot for you! 
I believe photography is the perfect method of story telling. In years to come, when the moment has long since passed, it's the pictures taken; those stills in time which have the ability to conjure up happy memories of years gone by and bring a smile to your face. It's my job to capture these timeless images in increasingly creative ways. I love nothing more than a new challenge from a client to get stuck into; and aim to learn a new technique every month. If you'd like to know more, please get in touch :-)
I'm a Canon user and shoot with a pair of the swanky 5D Mark III's and my trusty EOS 500D as a backup. For low light conditions, I use the powerful 580EX II and 430EX II Speedlites. My zoom lenses of choice are the Canon EF 24-70mm f/2.8L II USM, EF 70-200mm f/2.8L IS II USM and 16-35mm f4L IS USM. For portraits, my go-to lens is the 'nifty fifty' prime EF 50mm f/1.2L USM. For macro shots I use the EF 100mm f2.8L IS USM and to achieve the creamy bokeh that everyone loves, it has to be the EF 135mm f2L USM. For those who aren't too camera savvy, the 'L' stands for luxury and is Canon's top of the range series of lenses with higher quality optics and water resistant seals. You can spot them easily by looking for the red ring on the lens barrel. With these sidekicks, I can capture the close up action for all those important details, but also disappear into the background with the telephoto lens to discreetly record the candid moments, no matter what the weather.